---
No. 02
Nov. 1997
---
---
C O N T E N T S

L e t t e r f r o m t h e E d i t o r

B l o n d i e b y M a g n u s J o h a n s s o n

cyberjonny b y M a g n u s J o h a n s s o n

I n f e r n o b y M a g n u s J o h a n s s o n

S a n c t u a r y b y D a v i d L i m

M i s f i r e b y M a r k u s R y d h

N a t u r e b y A d a m B o m a n
---
W O N D E R F U L C U L T U R E
L a m p s h a d e D r e a m s b y P h i l i p C a r l s s o n
B o d y b y J o h n H o l m v a l l
T o o t h b o y b y J o h n H o l m v a l l
H e a v y W e a t h e r b y G u s t a f E r i k s o n
---
---
L e t t e r f r o m t h e E d i t o r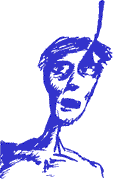 After an unbearably long period of waiting, a new issue of Wonderful Comics is finally here. The reasons for the delay are a lost scanner, boring lectures, difficult exams and various other trivialities.
But now it's here, and what an issue it is! Some of the contributors to Wonderful Comics 01 have returned: Magnus Johansson is back with a couple of cyberjonny strips and two cartoons, John Holmvall has done two more paintings, and Philip Carlsson has written the short story Lampshade Dreams.
There are also a number of new talents: David Lim contributes with the first page of his comic Sanctuary, Markus Rydh has made a 3D cartoon titled Misfire and Gustaf Erikson has reviewed Bruce Sterlings novel Heavy Weather.
If you would like to see your comics or articles in futire issues of Wonderful Comics, go ahead and submit your creations to the editor. See the infopage for more details.
Now I'll only say that I hope you enjoy the second issue of Wonderful Comics.
The editor


---
Wonderful Comics is published with a couple of issues a year.
Editor: Adam Boman.
Contributors: Adam Boman, Philip Carlsson, Gustaf Erikson, John Holmvall, Magnus Johansson, David Lim och Markus Rydh.
Thanks to: all contributors, Erik Åström, Erik Hedström and Kalle Engblom.
Email address: wonderful@wonderfulcomics.com
Snail mail address: Adam Boman, Rudgr. 12, S-194 67 Uppl. Väsby, Sweden.
You are welcome to submit material to future issues of Wonderful Comics. Read more here.

All material in Wonderful Comics is © Copyright Wonderful Comics or the respective creator. All logotypes are trademarks of Wonderful Publishing.